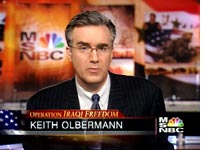 Link
http://www.youtube.com/watch?v=g1OA2wHcBt4
You can also read his brilliant comments here or watch the video :
http://www.msnbc.msn.com/id/6210240/
I don't want to even quote him because a single quote would be a disservice. Might want to send a thank you note here: viewerservices@msnbc.com
THANKS again!
Also one more reminder You can get the
9/11 Press For Truth
DVD
http://www.911truth.org/
"
riveting
No "conspiracy theories" –
JUST QUESTIONS and the DEMAND FOR A NEW INVESTIGATION
!
You can also buy it from Amazon.com